082308 Mnet 20's Choice: Big Bang: Haru Haru & Oh My Friend Performance
**EDIT: GUESS WHAT? HARU HARU MV PART 2 will be release on August 25th. Just like the Lies MV.

Thanks to 230님@VIPZ


The beginning was AWSOME! With Bong and Tabi on the red convertable outiside, the rest inside by the piano and then the song start, Bong and Tabi start walking in.. that's awsome, it sound like a remix version.. what? so soon.. Look at Bong's shirt… I ❤ SEX…. wow. Do they sound somewhat diffrent to you? cuz it sure does to me, i think they are overworking themselves…… it doesn't sound good as any other live performanece they done before.
Oh My GOD! That familiar tune, the song you would hear in like badass scene in a movie haha, then Tabi walk out sayin "we're the Big Bag just like the mother *COVER YOUR MOUTH*" THAT is effin hot… dude… you have NO IDEA. Oh My Friend sound so much cool with a live band. love it!! Baby did that rockstar move again. love it love it love it. LOL at YB just looking straight at the camera, so cute. Look at VIPs going crazy, SEE K-VIP KNOW HOW TO ROCK!! YEA!! CUZ THEY ARE AWSOME LIKE THAT! Awww.. I love the hugging at the end, they're so sweet!
Park Min Young gave them the award, that's cool! They win HOT Trend Musician. YEA!! Congrats boys!!
GO SEE MORE MORE MORE!!!!!!!!!!!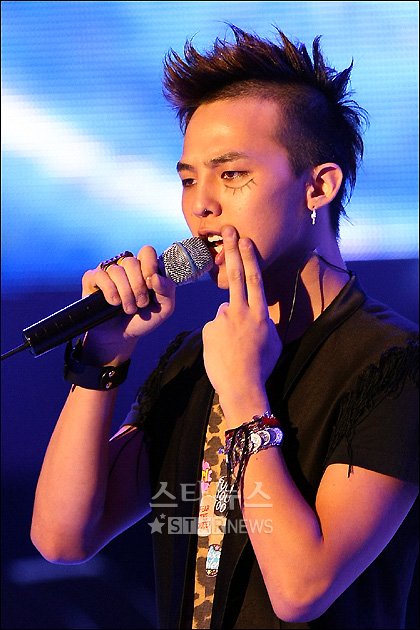 credit: my daily \ newsen \ photoro \ starnews \ yahoo
Taken from: DOLCEVITA님.Bigroom@VIPZ