11.15.08 MKMF: BEST Male Group & Aritst of the Year!! | Music Core: Sunset Glow Performance
**** CLIPS OF ALL THE PERFORMANCE HAS BEEN ADDED!!! ***
11.15.08 2008 MKMF
Big Bang & Hyori: Scandalous Stage
181 MB
Download
Thanks to S님
When they won 'Artist of the year':
Big Bang's T.O.P. expressed, "Compared to flowers which will wilt at unexpected times, I would prefer to be wild grass that can live a long life." G-Dragon said, "It's a really meaningful thing to receive the Artiste of the Year award as a singer. We will work even harder in future to become even better singers."
thanks coolsmurf
BIG BANG WON BEST MALE GROUP!!!
and ARTIST OF THE YEAR!!!
11.15.08 2008 MKMF
Big Bang & Lee Hyori Rehearsal
32 MB
Download
Thanks to S님
11.15.08 2008 MKMF
Winning 'Artist of the Year'
43 MB
Download
Thanks to S님
11.15.08 2008 MKMF
Arrived at the Red Carpet
72 MB
Download
Thanks to S님
11.15.08 2008 MKMF
Winning 'Best Male Group'
16 MB
Download
Thanks to S님
WINNING ARTIST OF THE YEAR
WINING BEST MALE GROUP
IF THERE'S SUCH THING AS SUSPENSE KISS OF THE YEAR. WE JUST SAW IT. WANNA SEE THE PICS???? UNDERNEATH THE CUT. added more pics with other members.
10 MINUTES (GDragon & KUSH Version)

SCANDALOUS STAGE WITH HYORI [Only Look at me Pt.2]

LOOK AT ME, HYORI PERFORMANCE
LIES PERFORMANCE
U GO GIRL PERFORMANCE
11.15.08 MBC Music Core
Sunset Glow Performance
223 MB
 
Thanks to 통키님
ADDED!! PICTURES FROM THE RED CARPET… they be looking FINE~~~~~
So far, the boys receive 2 awards, Best Music Digital and Mnet Music Portal. Not sure of the name, but congrats~ For those who miss it, the clip from their Red Carpet. Rolling in a Range Rover, my dream car 😀
thanks to S님
The Red Carpet for MKMF is currently ON, the boys probably won't show up until later on… cuz they're important like that haha, but it's raining, JUST like last year, still can't believe it's already been a year, i still remember staying up late and watching this last year haha, how I almost broke my knee when I tripped and landed on the floor running around when Big Bang won Song of the Year, hope I'll get to break my knee this year :D.  I spot VIPs standing there with rain coats on, I spot the Big Bang bandada and crown glow sticks in almost every fan shots, props to them, you guys are awsome.
WATCH IT ONLINE HERE:
http://www.gomtv.net/mkmf2008/live/
Download the GOM PLayer to play it
ANYBODY SAW THE 'GDRAGON PARODY' THEY DID??? oh my god that was hilarious, he was wearing something familar to Sam and the shirt and make up… T___T hahahha 96 and I ❤ MUSIC
thanks to S님
wahh~ they're wearing my favorite color this time, PURPLE!!! Rather a darker shade but still ooking good~ kkeke Bae showing off his guns and point to it like 'yea~' hahaha WHOA~ the part where Bong rapped, look at Bae doing that… what is it? haha where he spread it leg on the floor, tht was tight. Bong rapping in the front, while Baby work his maknae magic in the back…… what a perfect frame. kekek LOL at Bae's pose kekke that is so cute~ Tabi and his eyes while he rapped kekeke when he's done rapping, he lost his balance and almost stumbled in the front haha but gladly, he got a hold of himself haha, or the VIPs underneath will kidnap him home haha.
Baby's smile and Dae's shaking of the head while singing just send me straight Smiley Face Ville hahaha, can't get enough of their happy faces!! While Bae was singing the bridge, look at Tabi in the back kekekeke.
OH MY GAD MBC CAMERA MAN WIN IN LIFE.
Closing up during the 'ah ah ah ah ah ah' part was just plain awsome all of them KYAAAA~
i love it love it.
11.15.08 MKMF Red Carpet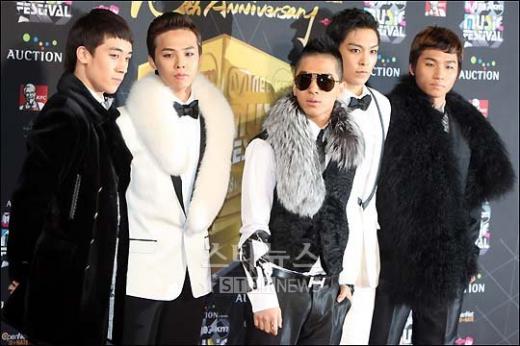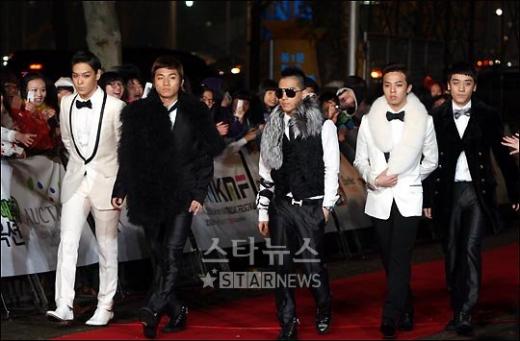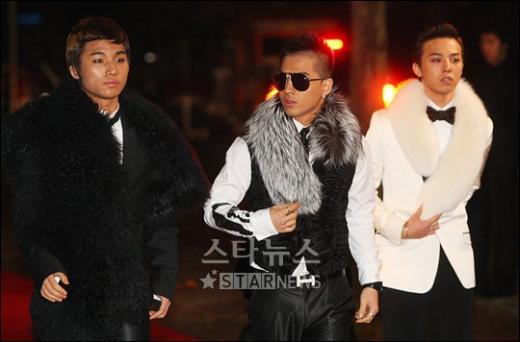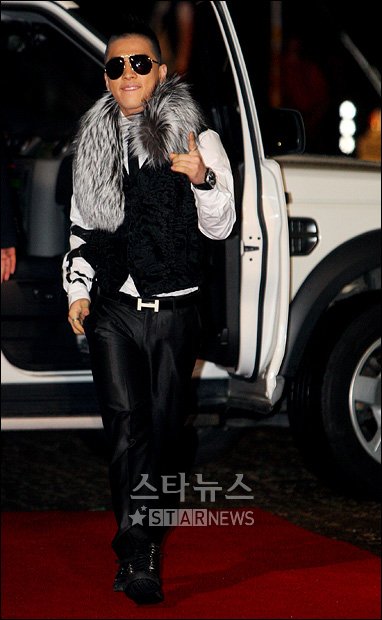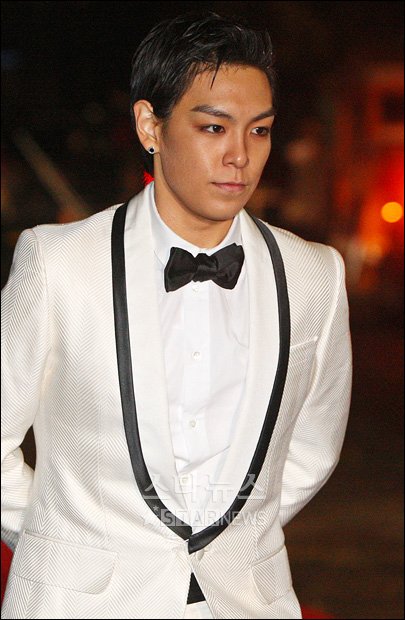 Thanks to StarNews | Newsen | YonHap News | Osen | mydaily
SUSPENSE KISS OF THE YEAR
LOL AT BONG KEKEKE
WINNING MALE GROUP OF THE YEAR